the sun goes down into the night
20-04-2015 - Posted by Andre Piet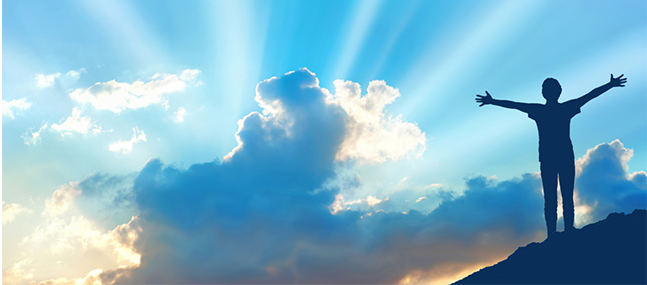 In the life of Samson are several moments to identify, concerning  which it is easy to pass a negative judgment on his choices. That starts already when his heart, as a young man, goes out to a Philistine woman, completely against the wishes of his parents. And who would not be able to understand Samson's parents? Their objections were quite reasonable (Judges 14:3)… were it not that something important eluded them.
But his father and his mother knew not that it was of the LORD, that he sought an occasion against the Philistines: -Judges 14:4-
The attitude of Samson's parents was very understandable and yet, not quite right. Samson was aware of his calling, namely, that he was to make a begin with delivering Israel (13:5). Samson believed and so he lived. That is also why his name is mentioned in the famous row of witnesses of faith in Hebrews 11 (verse 32). Would it not be better, before we apply our yardstick of decency and morality to Samson's life, first to listen to God's own assessment? The same is true when Samson, later, falls in love with Delilah.  How stupid was Samson to lose his heart to this lady? For many, this is the most important lesson from this tragic love story. This is not right, because what misdeed did Samson commit in his love for Delilah? Delilah's motives were obscure. She betrayed him and decided to sell him for many pieces of silver. Initially, Samson mocked Delilah's challenges (Judges 16:15) and his answers were wrong, that's true. But remember that Delilah asked him, three times, the wrong question ("wherewith should you be bound?"). Only when she calls his love into question ("how can you say, 'I love you'?") and penetrates to the heart of the matter ("why is your strength so great?") is Samson no longer able to be silent, and he tells her his secret. The three ways to tie him up, as Samson initially suggested, were only mockery and play. But now he had laid bare his heart to Delilah, it did not occur to him that she would betray him. Call it being naive, but the narrative shows that when Samson was awakened by the call, "the Philistines are upon you!", he did not know that his Divine power had departed from  him (Judges 16:20). He was not aware of having done anything wrong. As earlier his wife had cheated on him, at the wedding in Timna, (Judges 14:16), so now, history repeated itself. As a sheep before her shearers is mute, he was shaven, and he was led like a lamb to the slaughter (Isa.53:7). The sufferings that did befall Samson, undeniably remind us of the suffering of the Messiah. In Samson's life there were no physical restraints so strong, but that he would always be stronger. But sharing who he was, proved to be fatal. His love became his death. Love makes blind, says the proverb. In Samson's case, this also became literally true, because shortly after baring his heart, both of his eyes were gouged out (Judges 16:21). And so came Samson to be in "the prison-house" (Judges 16:21). How harsh for someone who always broke all physical restraints. Samson, whose name is derived from the sun (sjemesj) went down into darkness. The name Delilah is derived from the word for night, laila. Samson was taken to Gaza and his hair began to grow again (Judges 16:20,21). Both notifications are hopeful, because with his hair growth, also his strength came back. And is he not the man who once, in the night, broke open the gates of Gaza (Judges 16:2)? His opponents were planning to kill him at the break of dawn, but just then, it became evident that they were unable to lay hands on him. The emblem of Samson's victory, he had placed on the top of the mountain (Judges 16:3). What a most beautiful type of Israel's Messiah. Death could not hold him (Acts 2:24), because He broke open the gates of Hades (Mat.16:18). And as Victor, He sat down in the highest position!
Delen: