Healing in its wings
24-01-2012 - Posted by Andre Piet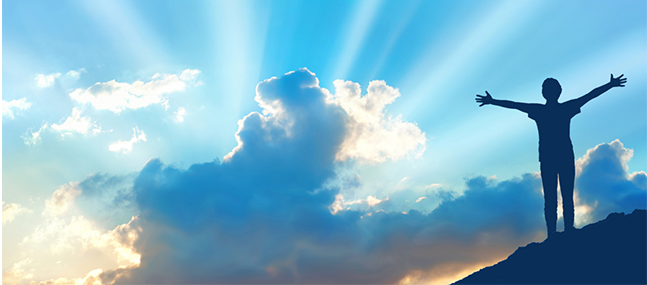 Yet the Sun of righteousness shall radiate to you who fear My name, and healing is in its wings… Malachi 4:2
In the last chapter of our "Old Testament" we find a prophecy about the coming of the Messiah. Verse 1 speaks of the Day of YAHWEH, which will be as a burning furnace, consuming the ungodly. In contrast, "the Sun of Righteousness shall arise" over a faithful remnant of Israel. And then it states: "and healing is in its wings." When we zoom in on the Hebrew word that is used, here, for 'wing' (kanaph), we find that, elsewhere, it is represented by 'corner' or 'border'. The idea behind the word is a boundary, a limit or an edge. Also, in the following verse, this words occurs:
Speak to the sons of Israel and say to them that they make for themselves tassels on the hems (kanaph) of their garments throughout their generations and put blue twine on the tassels of the hem (kanaph). Numbers 15:38
These tassels are, in Judaism, called 'tzitzit'. Only when we are aware of this custom, can we understand what the blood-flowing woman did when she went to Jesus.
43 And a woman, having a hemorrhage for twelve years, whose whole livelihood is being consumed by physicians, is not strong enough to be cured by anyone. 44 Approaching from behind, she touches the tassel of His cloak. And instantly, stanched was her hemorrhage. 45 And Jesus said, "Who touches Me?" Now, at all denying it, Peter and those with Him, said, "Doctor, the throngs are pressing Thee and jostling, and art Thou saying, 'Who touches Me?'" 46 Yet Jesus said, "Someone touches Me, for I knew power has come out from Me." 47 Now the woman, perceiving that she did not elude Him, came trembling, and prostrating to Him, reports in the sight of the entire people for what cause she touches Him and so was healed instantly. 48 Now He said to her, "Courage, daughter! Your faith has saved you! Go in peace!" Luke 8
It was faith that had led this woman to touch the hem of Jesus' garment. Had she perhaps read, in the Tanakh, that when the Sun of Righteousness would arise, there would be healing under His wings (=kanaph)? What else was there for her to do than to touch the sky-blue tassels (=kanaph) of His garment?! There, after all, would be healing! ——————————— translation: Peter Feddema
Delen: