always happy?!
24-07-2015 - Posted by Andre Piet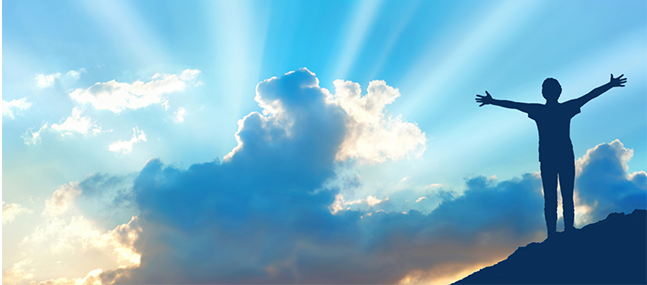 Be rejoicing in the Lord always! Again, I will declare, be rejoicing! -Paul in Philippians 4:4-
Paul does not tire in his letters to encourage believers to rejoice. To do so, not merely at certain times, but always. Here are a few examples:
Romans 12:12 rejoicing in expectation…
2Corinthians 13:11 Furthermore, brethren, rejoice…
Philippians 2:18 you also be rejoicing, and be rejoicing together with me.
Philippians 3:1 For the rest, my brethren, rejoice in the Lord.
1Thessalonians 5:16 Be rejoicing always…
Strange as it may sound, some become sad when hearing or reading such calls to rejoice. They were not happy (for sure not, at all times), and then comes Paul to tell them to be happy, nevertheless. The result is: feelings of guilt and thus, they become even less happy than they were, already. Something similar occurs, when they read what Paul wrote a few verses later: Do not worry about anything (Phil.4:6). Suppose you lie awake every night because of worrying about a shortage of money and then someone comes along and emphasizes, do not worry about anything. The result is that through this an extra worry has been added to you! Anyone taking these words of Paul this way does not understand him at all. He does not say: you must be happy. Nor: you may not worry. Those are nonsensical commands. You cannot be happy on command. And neither can you be worry free on command. Indeed: these commands have the opposite effect. It's downright depressing being required to walk around with a toothpaste smile on your face. That has nothing to do with joy. On the contrary, it is fakery. Many so-called happy-clappy Christians, who must be happy and carefree, are all too often carrying an unbearable burden. Required to be happy, when you are not happy, is harder than having to wear black clothes, such as a different type of Christians are expected to do. Paul did not teach that you must be carefree but that you may be carefree. After all, you may know that there is a GOD Who cares for you and richly provides everything you needv(Phil.4:19). If you realize that, then you are carefree! Paul does not write in Philippians 4 verse 4 to always be happy, period. No, he points to the motive of joy: rejoice in the Lord always. When you realize who it is that has everything under control and makes all minuses into plusses, then you always have reason to be happy. Especially (!) in sad circumstances. That is why Paul writes elsewhere:
…as sorrowing, yet always rejoicing… 2 Corinthians 6:10
Are you sad? Thank God that you may be sad; let your tears run freely. But thank Him, too, because you know that He is GOD, and that the sad circumstances work together for your good (Rom.8:28). This is how you rejoice in the Lord! And since the Lord is the constant and decisive factor in every circumstance, there is always reason to rejoice! Even if you do not feel it. This makes me very happy!
Delen: